Captain Cook's sextant made by Bird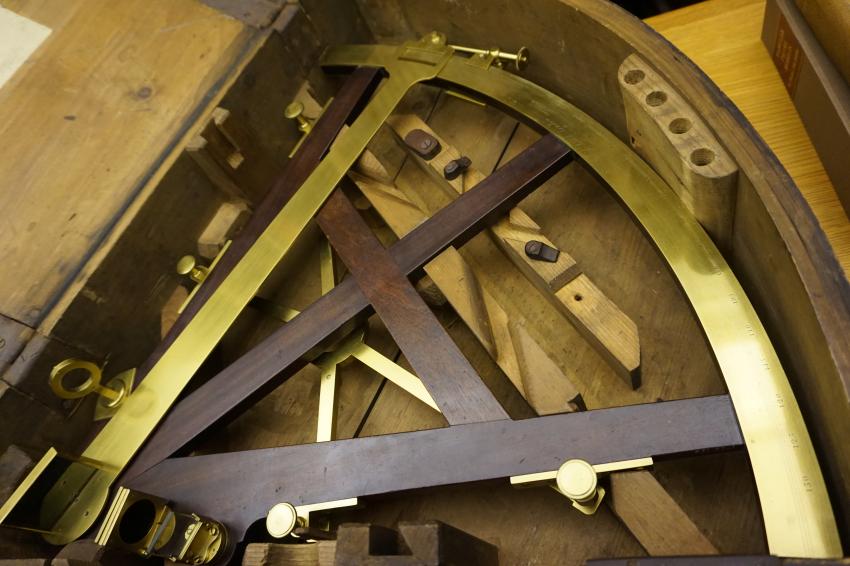 Credit
Royal Astronomical Society
Other Reference Number
1908-159 (Science Museum); L2015-4250 (Science Museum Loan Inventory Number)
Description
Captain Cook's sextant made by Bird. The brass sextant has a detachable brass eye-piece (object glass) and a wooden (mahognay) frame and a wooden (pine) carrying case.
From Science Museum Condition Report (14/04/2016): Inventory Number: L2015-4250; Title: Captain Cook's sextant; Description: An 18 inch radius brass and mahogany sextant by John Bird, London, c. 1772. Mahogany frame reading from -5 to 130 degrees on the brass scale. The back filled with a four leg brass section with mount for belt pole. Brass index arm with tangent clamp and screw vernier reading to one minute. Filled with three index shades, the horizon mirror adjusted by means of a lever and screw. In a pine, key stone case with a single telescope (object lens cracked) and bearing a paper label inscribed 'Captain Cook's sextant. J. Vine from C. Gould. Box no. 322'; Condition Description: The instrument is intact and structurally stable. The brass is untarnished, the glass in the index mirror and shades is intact, and the wood is in good condition apart from superficial scratches, and a dent on one of the arms. The telescope lens is also cracked but secure. / Displayed with box which is also stable and secure, despite two large cracks in the base, structure inside holds instrument in place. Surface of box is slightly dirty and dusty, edges of lid are worn and scratches. Hinges are corroded but appears not active, and remain secure. There are labels on the inside and outside of the lid, these are secure but worn slightly and discoloured.
1908-159 Captain Cook's sextant, by Bird; Captain Cook's sextant, wooden frame; c. 1765; R = 18 in.
Producer (maker/artist)
John Bird