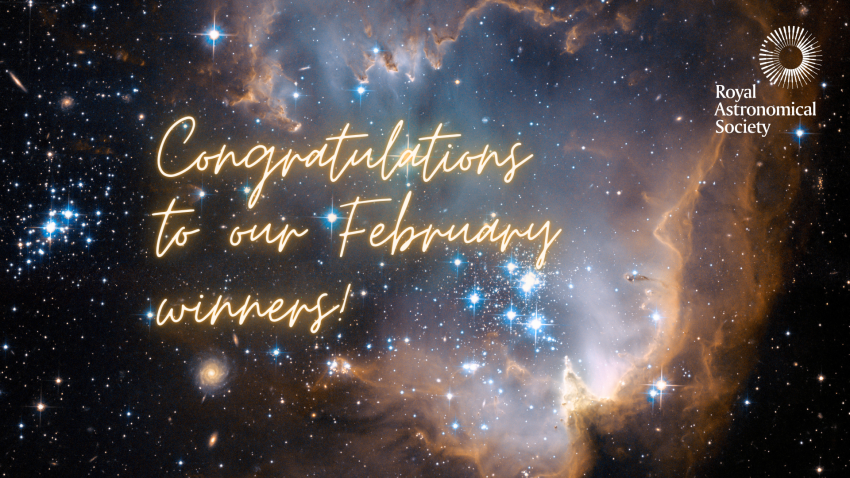 Credit
NASA, ESA and the Hubble Heritage Team (STScI/AURA)-ESA/Hubble Collaboration
Congratulations to the following winners from February's round of Education and Outreach small grant scheme applicants:
Dr Vasileios Spathopoulos - The Antikythera Mechanism: Using an ancient computer to teach basic astronomy concepts
Mrs Tracy Thompson - Funding support for continuation of a free Space Society for all
Mr Charles Tyrer - Fly Me to the Moon
Helen Usher - Defending the Planet and Exploring Asteroids - with the DART/HERA Mission ... and a rotating potato!
Thank you all for your application for a grant from the February 2022 grants round.
About the RAS E&O Small Grant Scheme
A range of public outreach activities are funded, such as development of public events, training workshops, broadcasting or podcasting, and development of educational material. Bids for funds for general equipment such as telescopes, laptop computers, scanners, digital projectors and the like have met with little success to date, even where the basis for the application to the E&O Fund was for promoting public understanding or other purposes relevant to the aims of the Society. 
Applications are assessed twice a year; the deadlines for these grants rounds are 20 February and 20 August. Applications will be reviewed shortly afterwards, and awards announced within three months. You can access the application form here .