A new study has discovered the first known permanent immigrant to our Solar System. The asteroid, currently nestling in Jupiter's orbit, is the first known asteroid to have been captured from another star system. The work is published in Monthly Notices of the Royal Astronomical Society: Letters.
The object known as 'Oumuamua was the last interstellar interloper to hit the headlines in 2017. However it was just a tourist passing through, whereas this former exo-asteroid – given the catchy name (514107) 2015 BZ509 – is a long-term resident.
All of the planets in our Solar System, and the vast majority of other objects as well, travel around the Sun in the same direction. However 2015 BZ509 is different – it moves in the opposite direction in what is known as a 'retrograde' orbit.
"How the asteroid came to move in this way while sharing Jupiter's orbit has until now been a mystery," explains Dr Fathi Namouni, lead author of the study. "If 2015 BZ509 were a native of our system, it should have had the same original direction as all of the other planets and asteroids, inherited from the cloud of gas and dust that formed them."
However the team ran simulations to trace the location of 2015 BZ509 right back to the birth of our Solar System, 4.5 billion years ago when the era of planet formation ended. These show that 2015 BZ509 has always moved in this way, and so could not have been there originally and must have been captured from another system.
"Asteroid immigration from other star systems occurs because the Sun initially formed in a tightly-packed star cluster, where every star had its own system of planets and asteroids," comments Dr Helena Morais, the other member of the team.
"The close proximity of the stars, aided by the gravitational forces of the planets, help these systems attract, remove and capture asteroids from one another."
The discovery of the first permanent asteroid immigrant in the Solar System has important implications for the open problems of planet formation, solar system evolution, and possibly the origin of life itself.
Understanding exactly when and how 2015 BZ509 settled in the Solar System provides clues about the Sun's original star nursery, and about the potential enrichment of our early environment with components necessary for the appearance of life on Earth.
 
---
Media contacts
Dr Robert Massey
Royal Astronomical Society
Tel: +44 (0)20 7292 3979
Mob: +44 (0)7802 877 699
press@ras.ac.uk
 
Dr Morgan Hollis
Royal Astronomical Society
Tel: +44 (0)20 7292 3977
Mob: +44 (0)7802 877 700
press@ras.ac.uk
 
Dr Helen Klus
Royal Astronomical Society
Tel: +44 (0)20 7292 3976
press@ras.ac.uk
 
---
Science contacts
Dr Fathi Namouni
Observatoire de la Côte d'Azur
France
Tel: +33 492 003 023
namouni@oca.eu
 
Dr Helena Morais
Universidade Estadual Paulista
Brazil
helena.morais@rc.unesp.br
 
---
Images and captions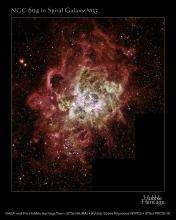 Image of stellar nursery NGC 604 (NASA/HST), where star systems are closely packed and asteroid exchange is thought to be possible. Asteroid (514107) 2015 BZ 509 emigrated from its parent star and settled around the Sun in a similar environment.
Credit: NASA / Hubble Heritage Team (AURA/STScI)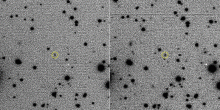 Images of 2015 BZ509 obtained at the Large Binocular Telescope Observatory (LBTO) that established its retrograde co-orbital nature. The bright stars and the asteroid (circled in yellow) appear black and the sky white in this negative image.
Credit: C. Veillet / Large Binocular Telescope Observatory
 
---
Further information
The new work appears in: "An interstellar origin for Jupiter's retrograde co-orbital asteroid", F. Namouni & H. Morais, Monthly Notices of the Royal Astronomical Society: Letters (2018), in press (DOI: 10.1093/mnrasl/sly057).
 
---
Notes for editors
The Royal Astronomical Society (RAS), founded in 1820, encourages and promotes the study of astronomy, solar-system science, geophysics and closely related branches of science. The RAS organizes scientific meetings, publishes international research and review journals, recognizes outstanding achievements by the award of medals and prizes, maintains an extensive library, supports education through grants and outreach activities and represents UK astronomy nationally and internationally. Its more than 4,000 members (Fellows), a third based overseas, include scientific researchers in universities, observatories and laboratories as well as historians of astronomy and others.
The RAS accepts papers for its journals based on the principle of peer review, in which fellow experts on the editorial boards accept the paper as worth considering. The Society issues press releases based on a similar principle, but the organisations and scientists concerned have overall responsibility for their content.
Follow the RAS on Twitter, Facebook and Instagram