The Royal Astronomical Society (RAS) will host a dedicated livestream of observations of Uranus, led by astronomers and planetary scientists from the University of Leicester, on 8, 9 and 10 October. The scientists will use the NASA Infrared Telescope Facility (IRTF) on Mauna Kea, Hawai'i to bring live imagery of the planet to people in the UK and around the world.
Members of the public are invited to view the live footage of the 'ice giant' – 50,000 kilometres across and almost 3 billion kilometres away from Earth – as the experts look to measure and analyse various aspects of its atmosphere across the three days of observations.
Uranus was first discovered by Sir William Herschel in 1781, using a small telescope in his back garden in Bath, now the Herschel Museum of Astronomy. Herschel went on to become the founding president of the RAS in 1820.
The collaboration follows a hugely successful RAS livestream in 2020, also led by Leicester scientists, which observed the shadow of the moon Ganymede passing across the face of Jupiter in real time.
Observations of Uranus will take place from 09:00 to 16:55 BST (08:00 to 15:55 UTC) on Friday 8, Saturday 9 and Sunday 10 October 2021, and will be available to watch on the RAS YouTube channel.
The observations will be led by Leicester PhD student Emma Thomas. She says:
"Over these three days of observations, we will be building up the most detailed infrared map of Uranus that we have ever completed (a full 360 degrees longitude), and by doing this we hope to detect and fully map the southern infrared aurora for the first time ever."
"My area of research is to investigate and fully map the infrared aurorae at Uranus, which is done by analysing spectra (looking at the different wavelengths of light received from Uranus) from telescopes such as IRTF, Keck (also on Hawai'i), and the Very Large Telescope in Chile."
"The aurora of Uranus has been a long-standing mystery since the first detection of near infrared emissions back in 1993, but in the last four years we have begun to take the first steps in understanding the weird and wonderful aurorae we see at Uranus."
Lucinda Offer, Education, Outreach and Events Officer at the Royal Astronomical Society, says:
"We're really excited to be able to share this livestream event from Hawai'i so the public can learn more about what astronomers do, as the teams in Leicester, Hawai'i and at the RAS follow in Herschel's footsteps. 240 years on Uranus is still a mysterious world, and in celebration of Women in Space for World Space Week, Emma and her colleagues will show us how astronomers are slowly unlocking its secrets."
Dr Tom Stallard, Associate Professor in Planetary Astronomy at the University of Leicester, adds:
"We were blown away by the reaction to our livestream of Jupiter last year and look forward to collaborating with the RAS once again as we focus on Uranus."
"It's really exciting to be able to share the thrill of live observations such as this, as the team – led by Emma – look to map the emissions from a previously uncharted corner of our Solar System."
As well as real-time observations of Uranus, each day's livestream will also feature expert guests from the Royal Astronomical Society, University of Leicester and other research institutions including the Japanese Aerospace Exploration Agency (JAXA). There will be opportunities to put questions to the scientists and learn how our understanding of this distant planet has changed over the past two and a half centuries.
Leicester scientists have also been allocated time on the prestigious James Webb Space Telescope, the most advanced observatory ever built, after it launches later in 2021. Dr Henrik Melin and Dr Leigh Fletcher, both of the School of Physics and Astronomy at the University of Leicester, are among the experts who will study the composition of the planet's atmosphere, using a range of different spectra. Dr Melin is considered a world expert in measuring the Uranus ionosphere with infrared measurements, and recently presented his research at the Royal Society.
Guests can register for the livestream free of charge on Eventbrite.
Media contacts
Dr Morgan Hollis
Royal Astronomical Society
Mob: +44 (0)7802 877 700
press@ras.ac.uk
Dr Robert Massey
Royal Astronomical Society
Mob: +44 (0)7802 877 699
press@ras.ac.uk
Jonathan Whitney
Media Relations Officer
University of Leicester press office
Tel: +44 (0)116 252 2160
press@le.ac.uk
Science contacts
Emma Thomas
PhD student
University of Leicester
emt18@leicester.ac.uk
Dr Tom Stallard
Associate Professor in Planetary Astronomy
University of Leicester
tss8@leicester.ac.uk
Lucinda Offer
Education, Outreach and Events Officer
Royal Astronomical Society
Mob: +44 (0)7889 226 543
loffer@ras.ac.uk
Image and caption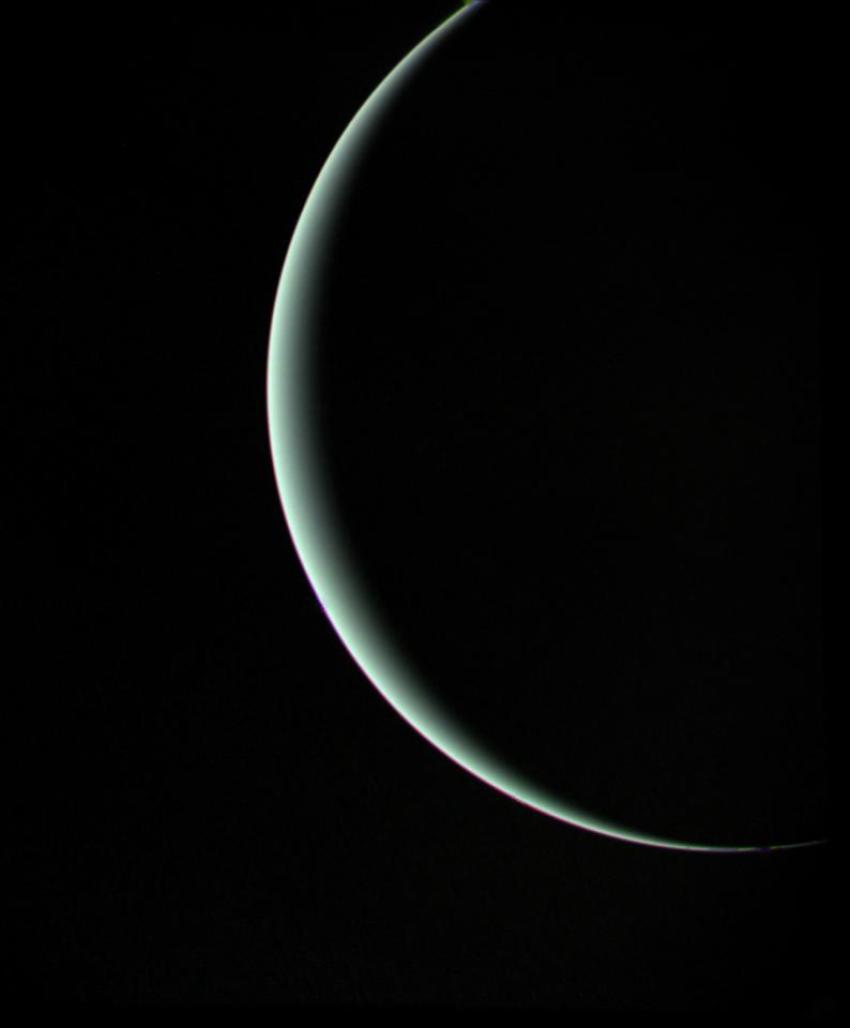 NASA / JPL
Notes for editors
For further information and filming requests, please contact the University of Leicester press office on 0116 252 2160 or press@le.ac.uk
About the University of Leicester and its Centenary celebrations
The University of Leicester is led by discovery and innovation – an international centre for excellence renowned for research, teaching and broadening access to higher education. It is among the top 25 universities in the Times Higher Education REF Research Power rankings with 75% of research adjudged to be internationally excellent with wide-ranging impacts on society, health, culture, and the environment. The University is home to just over 20,000 students and approximately 4,000 staff.
Autumn 2021 marks the start of the University of Leicester's Centenary celebrations
Then known as the University College for Leicester, Leicestershire and Rutland, the University College was envisaged as a 'living memorial' to the sacrifices of local people in the First World War. The University motto Ut vitam habeant ('so that they may have life') stands as a permanent reminder on every publication and degree certificate issued since. We are the only European university founded as a memorial to the First World War, and one of only two anywhere in the world. 
Find out more about our Centenary celebrations.
About the Royal Astronomical Society
The Royal Astronomical Society (RAS), founded in 1820, encourages and promotes the study of astronomy, solar-system science, geophysics and closely related branches of science. The RAS organises scientific meetings, publishes international research and review journals, recognises outstanding achievements by the award of medals and prizes, maintains an extensive library, supports education through grants and outreach activities and represents UK astronomy nationally and internationally. Its more than 4,400 members (Fellows), a third based overseas, include scientific researchers in universities, observatories and laboratories as well as historians of astronomy and others.
The RAS accepts papers for its journals based on the principle of peer review, in which fellow experts on the editorial boards accept the paper as worth considering. The Society issues press releases based on a similar principle, but the organisations and scientists concerned have overall responsibility for their content.
Follow the RAS on Twitter, Facebook, Instagram and YouTube
Download the RAS Podcast from Audioboom