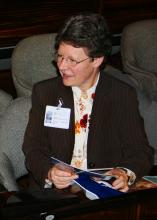 Professor Jocelyn Bell Burnell, a former President of the Royal Astronomical Society, was central to the discovery of radio pulsars when a research student. Now, 44 years later, Jocelyn has won a $3 million Special Breakthrough Prize in Fundamental Physics for her work. She plans to give her winnings to the Institute of Physics to fund PhD scholarships for individuals that are under-represented in the physics community.
Jocelyn gained her PhD at Cambridge University in 1969. During her doctoral research there she helped construct a radio telescope to track quasars. It was her job to operate the telescope and analyse the data produced. After a few weeks, she noticed an anomaly and, under further investigation, identified it to be an object with a rapidly varying signal – a pulsar.
After the discovery, Jocelyn went on to be Professor of Physics at the Open University, Dean of Science at the University of Bath, and between 2002 and 2004 was President of the RAS.
The current President of the Society, Prof Mike Cruise, said:
"It's wonderful to see that someone so pivotal in astronomy get the recognition they deserve. We take enormous pride in Jocelyn's achievement - and her generosity - and hope the new fund will produce many more brilliant physicists like her in years to come."