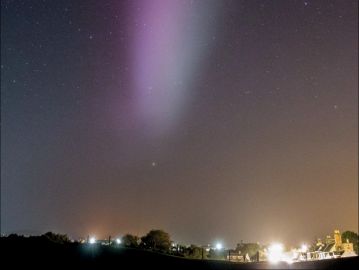 The new issue of Astronomy & Geophysics (A&G), the in-house journal of the Royal Astronomical Society (RAS), is now available for advance viewing online! The latest Editor's Choice includes a spotlight on the Society's new million-pound programme of public outreach projects, the 150-year story of astrophotography, and a Q&A with the brand new executive director, Philip Diamond.
In 'RAS 200 needs you!', A&G Editor Sue Bowler comments on the start of the RAS200: Sky & Earth projects, funded by the RAS to celebrate 200 years of advancing astronomy and geophysics. Volunteering and outreach work is nothing new for a lot of RAS Fellows, so a diverse programme of outreach and engagement is the perfect way to celebrate the Society's bicentenary.
In 'Capturing starlight', Marek Kukula, the Public Astronomer at the Royal Observatory Greenwich, explores the close and continuing links between astronomy and photography, and takes us through the history and some of the highlights from the Insight Astronomy Photographer of the Year competition.
Anita Heward and Robert Massey delve into the political sphere and report from a meeting that discussed how astronomers could engage with the public and politicians, asking, 'Can we make a case for astronomy?'
And finally, the new executive director of the Society reveals all for 'Q&A Philip Diamond', discussing Einstein, film, and the future of the RAS.
 
---
Media contacts
Dr Robert Massey
Royal Astronomical Society
London
Tel: +44 (0)20 7292 3979
Mob: +44 (0)7802 877699<
press@ras.ac.uk
 
Dr Morgan Hollis
Royal Astronomical Society
London
Tel: +44 (0)20 7292 3977
Mob: +44 (0)7802 877700
press@ras.ac.uk
 
---
Further information
Full Editor's Choice articles are free to view online:
 
Sue Bowler
 
Marek Kukula
 
Can we make a case for astronomy?
Anita Heward & Robert Massey
 
Philip Diamond
 
The complete February edition of A&G is also available for advance online purchase.
 
---
Notes for editors
The Royal Astronomical Society (RAS), founded in 1820, encourages and promotes the study of astronomy, solar-system science, geophysics and closely related branches of science. The RAS organizes scientific meetings, publishes international research and review journals, recognizes outstanding achievements by the award of medals and prizes, maintains an extensive library, supports education through grants and outreach activities and represents UK astronomy nationally and internationally. Its more than 4,000 members (Fellows), a third based overseas, include scientific researchers in universities, observatories and laboratories as well as historians of astronomy and others.
The RAS accepts papers for its journals based on the principle of peer review, in which fellow experts on the editorial boards accept the paper as worth considering. The Society issues press releases based on a similar principle, but the organisations and scientists concerned have overall responsibility for their content.