Jupiter from Juno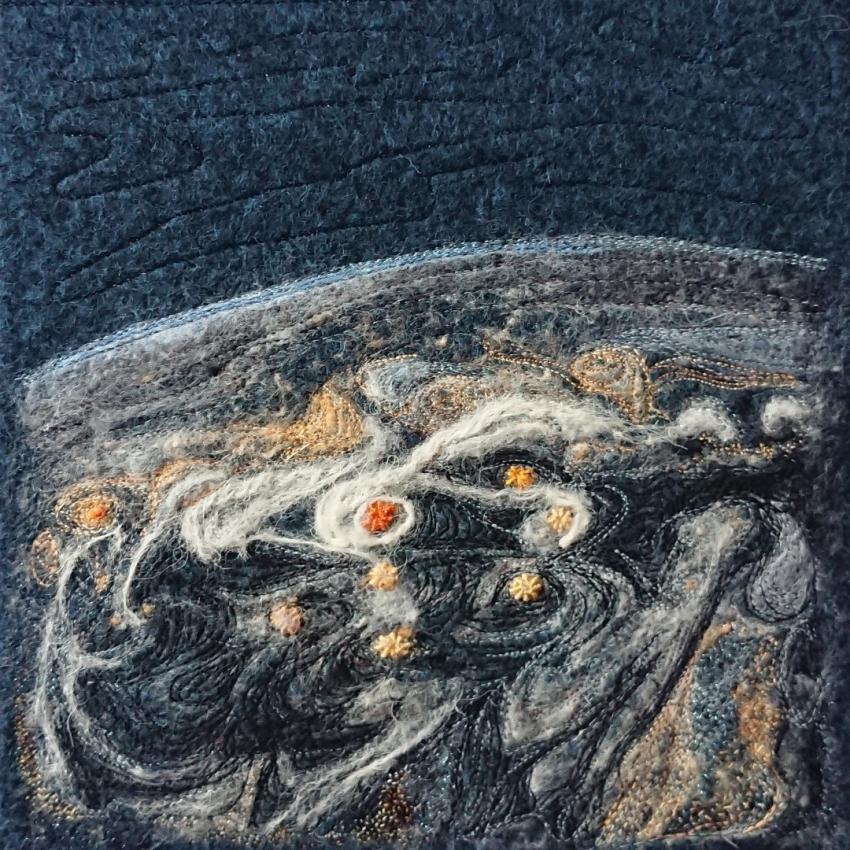 Royal Astronomical Society
Title: Jupiter from Juno
Description: The surface of Jupiter as seen by Juno, a NASA space probe
Maker: Morag Potter
Techniques used: Wool needle-felted onto wool felt, then machine and hand stitched.
Inspiration: 
I have always been interested in the night sky, stars and planets, and was fascinated by the Voyager explorations, starting in the late seventies. So much so, I ended up studying Astronomy at St Andrews and then Radio Astronomy at Jodrell Bank. While at St Andrews, I worked for two summers at the Royal Observatory, Edinburgh as well as doing my final year project there. I even managed to get a paper published before I graduated.
I was inspired by the Juno image on the front of my husband's British Astronomical Association journal. It conveyed a slightly different colour scheme and yet still the recognisable swirling, folding atmospheric structures such as those seen by Voyager all those years ago. I made a fabric version of the red spot area a few years ago for my City & Guilds Textiles course, and still love to look at it now, as well as the other astronomy themed pieces I made at the time. I thought I would try a different technique this time, using wool and felt, and have enjoyed it a lot.