Aurora from the ISS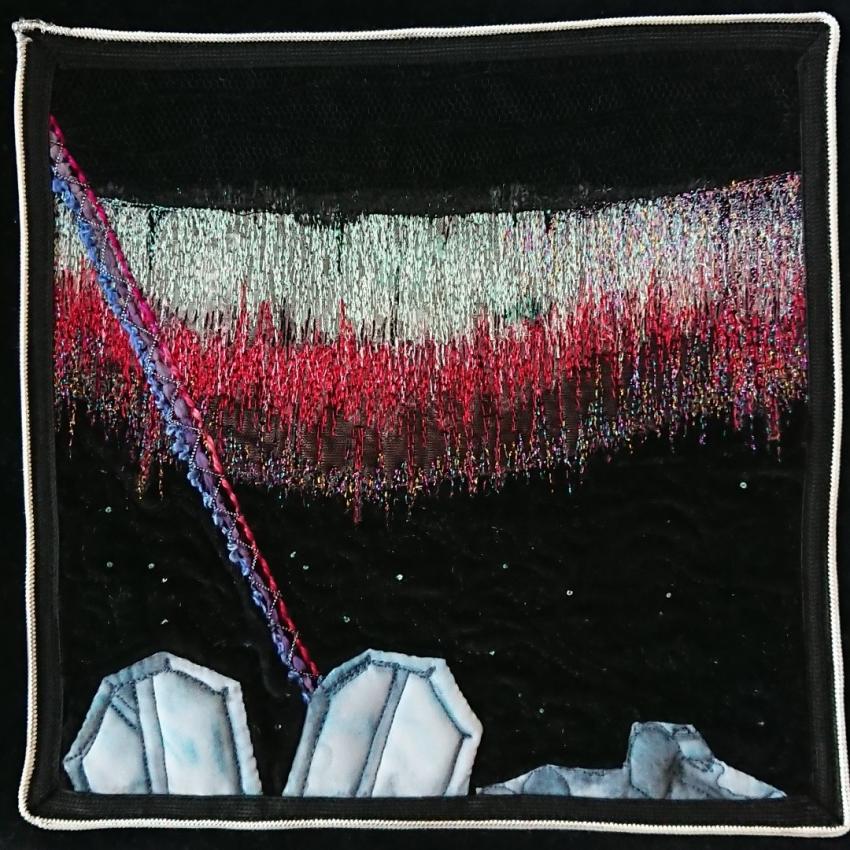 Royal Astronomical Society
Title: Aurora from the ISS
Description: The aurora as seen from the International Space Station (ISS), with parts of the ISS in the foreground.
Maker: Morag Potter, aspiring textile artist
Techniques used:
"The base fabric is black cotton velvet and the dark area of the Earth at the top has black netting attached using machine stitching. I created the Aurora using free-motion machine stitching of organza over painted bondaweb using metallic threads. The space station is appliqued on by hand with wadding underneath. Details were added using Inktense pencils and machine stitching. The long boom is created by hand couching thick threads and yarns, then machine stitching over with a wide zig-zag stitch using yet more metallic thread. The "window frame" is machine stitched piping."
Inspiration:
"I have always loved watching Aurorae, something I could do regularly, as I grew up in the far North of Scotland (nine miles south of John O'Groats). Aurorae were also seen regularly from St Andrews University, where I studied Astronomy and Astrophysics. I was Aurora Alert Officer for a couple of years there, where, in the days of pre-mobile phones, you had to contact someone in each hall of residence using the public phones! I tried reproducing the beauty of Aurorae all my life and was never satisfied, until I made a stitched piece for my City & Guilds Textiles course five years ago. It still hangs in my sitting room, pride of place. I considered reproducing this piece for the quilt block, but it didn't suit the square format. I then started looking on the NASA site and found amazing images taken from the ISS. The image which inspired me came from the NASA site and was take by Tim Peake and Scott Kelly on 20/01/2016 during Expedition 46. I love the unusual perspective of having Earth at the top and having part of the ISS visible at the bottom. I am looking forward to the time (3-5 years to go) when my husband and I will retire to live in Orkney and once again spend our winter evenings standing outside, getting very cold and marvelling at the wonder of the Aurorae dancing over the night sky."