Cassini-Huygens: Discovering New Worlds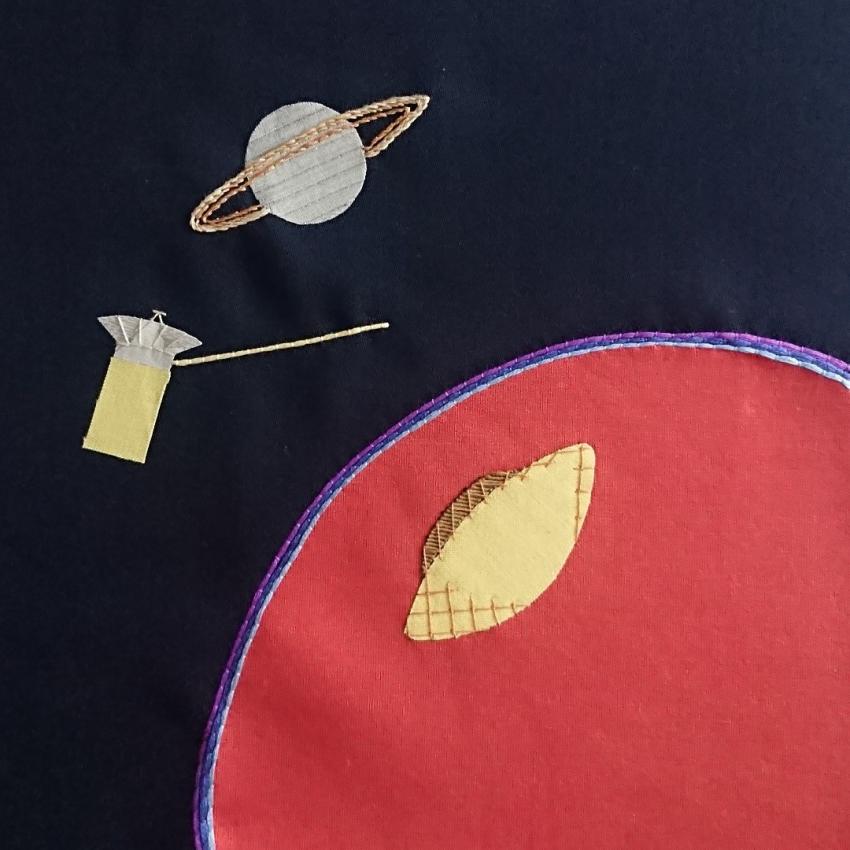 Royal Astronomical Society
Title: Cassini-Huygens: Discovering New Worlds
Description: The Huygens probe descending to Titan with the Cassini satellite and Saturn in the background.
Maker: Alex Law
Techniques used: "Appliqué and surface embroidery. The fabrics used are all remnants from clothes that I've made. The stitching is done with stranded cotton using stem stitch, back stitch, straight stitch and couching. Techniques that I've been perfecting while studying at the Royal School of Needlework."
Inspiration: "I was lucky enough to spend 18 months as part of the Cassini magnetometer team, looking into Titan's interaction with Saturn's magnetic field. The Huygens probe landed on Titan shortly after I joined the team. It was very special to watch the coverage with the team and to feel the excitement around getting the first data and all that we'd learn and discover. I wanted my quilt square to honour my time on the magnetometer team, which is why Cassini's magnetometer is prominent in my design. I've always felt incredibly grateful to the RAS since their funding allowed me to present my research at the San Francisco AGU.
Space and stitching have both been passions of mine since I was a child so as soon as I heard about the quilt project I knew I wanted to participate! I have thoroughly enjoyed meeting other space and stitching enthusiasts both at the in person and online sessions. Another highlight was being able to take my Dad to the RAS (it was his influence that first got me interested in space) and getting him to join in with stitching the Kuiper belt."
Website / Instagram : www.elaraembroidery.com / @elara.embroidery