Fragile Equilibrium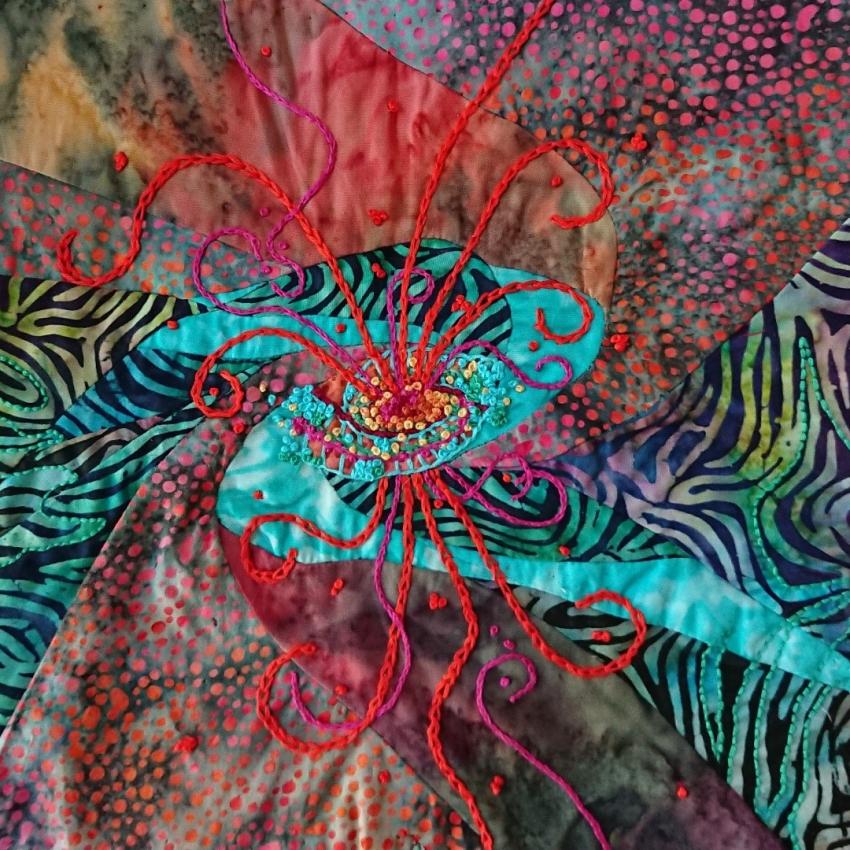 Royal Astronomical Society
Title: Fragile Equilibrium
Description: "The square illustrates the "Equilibrium Model" for galaxies. Fresh molecular gas inflows (blue fabric) fall into the galaxy at the centre and outflows of metal-rich molecular gas (red embroidery) are ejected. Some of that outflowing gas will fall back to the galaxy, while some may escape the gravitational well entirely. If either inflows or outflows become more dominant in this model, the equilibrium is lost and either violent star-formation or a decline in star-formation will follow respectively. This fragile equilibrium is crucial to our understanding of how galaxies evolve."
Maker: Lucy Hogarth, Astrophysics PhD student
Techniques used: Quilting, embroidery, applique
Inspiration: "My research is all about searching for signatures of molecular gas outflows from galaxies. The "Equilibrium Model" is critical to our understanding of galaxy evolution, yet there is little direct observational evidence to support it in normal star-forming objects. It is crucial yet elusive and a mystery very close to my heart. I wanted to create something that looked very dynamic to try and reflect the flowing gas moving in and out of galaxies. Using different textures and a variety of embroidery techniques helped to depict some of the "clumpiness" of star forming pockets inside galaxies. It also made a difference between the smooth inflowing gas sewn into the quilt and the more coarse embroidered outflows."