Dr Ady James
Institution
University of South Africa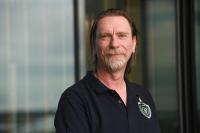 Biography
Dr Ady James is an Associate Professor at UniSA, where he teaches Systems Engineering, Space Studies and  Space Science, and an Honorary Reader in UCL's Faculty of Engineering Science.
He obtained a PhD in Space Science at University College London's Department of Space and Climate Physics in 1997, where he developed a fast ion spectrometer for the Russian Mars 96 spacecraft. Since competing his PhD he has worked in the role of technical project manager and systems engineer on various space programmes including Mars 96, Cluster II, XMM Newton, Solar-B and, most recently, on the VIS instrument of the ESA Euclid Mission. Dr James is currently a technical advisor on the integrated project team for the Kanyini spacecraft.
He has been involved in the Southern Hemisphere Space Studies Program since 2012, has held the position of co-Director since 2018 and was made a faculty member of the International Space University in 2020.
Dr James is also a Director of Education & Training with the SmartSat CRC.
Dr James is a Fellow of the Association of Project Management, Senior Fellow of the Higher Education Academy and Fellow of the Governor's Leadership Foundation.