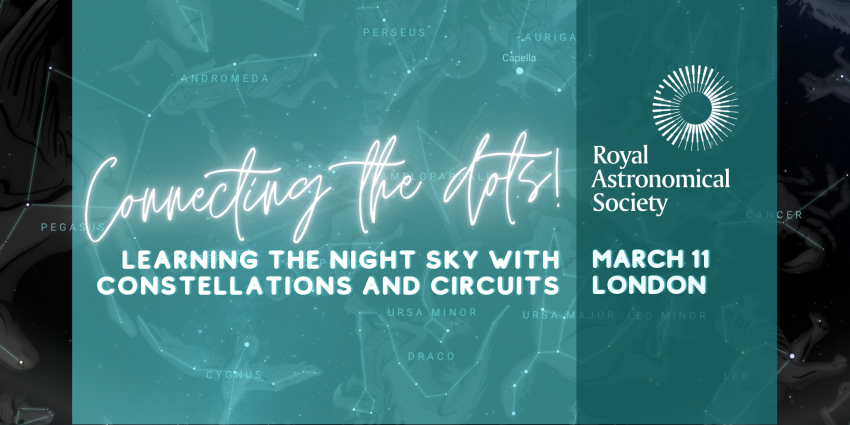 Credit
Stellarium/Noctua Software, Stellarium.org
In support of British Science Week in March which theme this year is Connections, the Royal Astronomical Society is offering a workshop on learning our night sky by connecting astronomy and physics through constellations and circuits. We will have astronomy and physics specialists in-house to work with children to learn about constellations in the night sky and create their very own illuminated constellation card using circuits, LEDs and resistors. We are offering two types of sessions for primary and secondary students. Please note that students under the age of 16 must be accompanied by an adult. 
These workshops are free and open to the public. Please register HERE to secure your very limited spot.
Connecting the dots: learning the night sky with constellations and circuits
Schedule on Saturday, 11 March, 2023:
10am to 11am - Primary session (60 minute session)
11:30am to 1pm - Secondary session I (90 minute session)
2pm to 3:30pm - Secondary session II (90 minute session)
Primary students will learn about constellations in the night sky and have an introduction to circuits. They will complete a constellation card of their very own that they can take home. Adult supervision is required. Please note: 3V batteries will be used in this session and must only be handled by adults. This session is 60 minutes.
Secondary students will learn about constellations in the night sky and have a refresher on circuits. They will be given the parts of a constellation card to complete on their own with specialists at hand to help. Adult supervision for students under the age of 16 is required. Please note: 3V batteries will be used in this session and must only be handled by adults and mature 16+ year olds. This session is 90 minutes.
If you have any questions about this workshop please contact our Education, Outreach and Events Officer, Lucinda Offer at loffer@ras.ac.uk.
Facilitators:
Dr Sue Bowler is the editor of the RAS membership magazine and a writer interested in the Earth and the universe. She shares her interests through outreach, through running the local science cafe and festival, and speaking in schools (ages 4-18)  and to societies, on anything from aliens to how to become a useful fossil. She is particularly interested in how planets work, within and outside the solar system.
Mark Wrigley identifies as a physicist. It is a methodology that has enabled a career in fast moving technology. A child of the space age in the 1960s, his enthusiasm for manned space flight and the moon landings lead him to study physics at the University of Leeds in the early 1970s.
His working life started out measuring blade temperatures in jet engines using analogue infrared methods. It continued in aviation data acquisition where he saw the introduction of digital technology.
By the1980s he had joined a company specialising in digital mobile communications. He was part of the team that delivered the first digital mobile phones to market. The deployment of mobile phone infrastructure saw a move overseas to in China, the USA and Japan before becoming a product manager for mobile network software.
Now retired, he has decided to return to his roots and pay back some of what physics gave him. He has led outreach activities for the last 10 years to inspire the next generation of technologists and improve access for everyone to physics and astronomy. He is dyslexic and doesn't like wordy explanations. He would much rather learn my making, tinkering and visualising. Recent years has seen an explosive growth in the maker movement, with people like Mark creating accessible, cutting-edge technology projects. He thinks it is a brilliant way to communicate science.
Prof. Kevin Walsh is the Astronomer-in-Residence at Westminster School, UK and professor of Physics Education at Shaanxi Normal University in Xi'An, PRC. He is a Fellow of the RAS and the IoP and the editor of the Bulletin of the Society for the History of Astronomy.
Lucinda Offer is the Education, Outreach and Events Officer for the Royal Astronomical Society in London which is a professional academic organisation that advocates for astronomy, geophysics, and space science in the UK. She was the Executive Director of the Mars Society USA from 2009-2021 which works to prepare humans for living and working on Mars via two-week simulations at their habitats in Utah and the Arctic. She is the Chair of National Astronomy Week in the UK and an Honorary Visiting Fellow for Bayes School of Business at City, University of London.
As a former NASA Associate, she participated in four NASA Spaceward Bound expeditions to the Mojave, Australia, Abu Dhabi and New Zealand researching tardigrades, 3.5Bya stromatolites, Mars and Titan analogues and geothermal vents respectively. She was also a NASA analogue mission tele-roboticist for Crew 97 at the Mars Desert Research Station testing and deploying a rover to work along future crews.
She studied Geology and Art and Design as an undergraduate, Science Education and Communication at graduate level and earned a distinction in Astronomy as a post-graduate while at universities in California, Scotland, and England. She is also a credentialed science teacher in both the US and UK and has taught Earth and Space Science, Physics and Astronomy since 2004. She was sent to Shanghai, China in 2019 to create and teach Mars education to teachers for career professional development and currently teaches GCSE Astronomy at the Royal Astronomical Society's headquarters in Burlington House, Piccadilly, London.
Venue Address
Map
51.5085763, -0.13960799999995