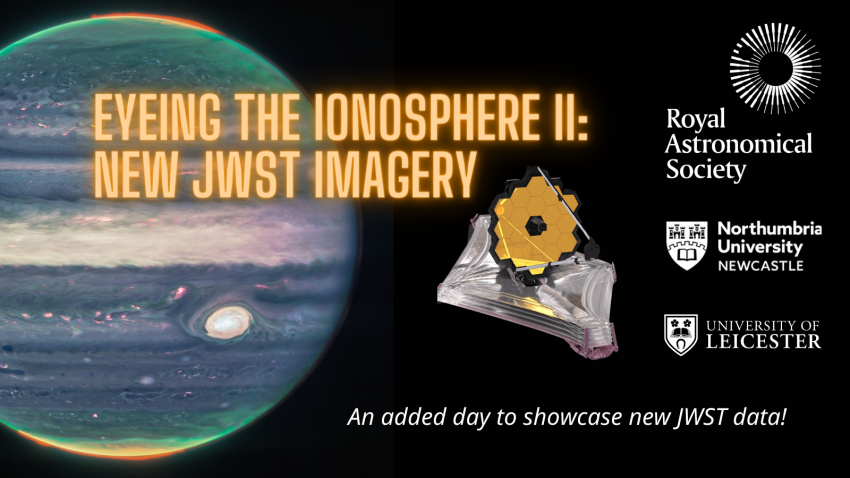 Credit
Jupiter image: NASA, ESA, CSA, Jupiter ERS Team; image processing by Judy Schmidt.
Eyeing the Ionosphere II: new JWST imagery
This Royal Astronomical Society event is free and open to the public and will take place online only in collaboration with the Department of Mathematics, Physics, and Electrical Engineering at Northumbria University Newcastle.
To register to attend this free, public, all-ages online event on Zoom, please register here: Register for Eyeing the Ionosphere here. 
Register via Evenbrite if you would like to join us on Zoom and want a first-hand connection to asking the scientists questions. Otherwise, we will be live-streaming on YouTube here.
For information on day one of Eyeing the Ionosphere, please go here: https://ras.ac.uk/Eyeingtheionosphere
Day Two - Eyeing the Ionosphere II: new JWST imagery
Please join us for an additional observation day on Monday, 11 September from 12-3pm for further observation of Jupiter via NASA's Infrared Telescope Facility (IRTF) in Maunakea, Hawaii and to have an early view of newly released JWST images. 
Prof. Tom Stallard and Dr Henrik Melin will have new JWST data to share with us:
via a recently awarded James Webb Space Telescope anti-clockwise scan of the entire limb of Jupiter, mapping the vertical profile of the ionosphere around the entire disk of the planet – an unprecedented 22-hour observation of Jupiter – the only JWST observation of a solar system planet for the cycle 2 year and one of only 16 solar system observations. You can learn more about this JWST award here. 
This three-hour event will feature Prof Tom Stallard and Dr Henrik Melin with RAS host Dr Robert Massey.
We hope you will join us for a look at these new images of Jupiter from JWST.